Total Hip Replacement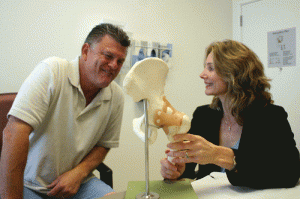 In this conventional treatment for severe hip pain, JRI surgeons use large femoral head technology that closely matches the body's natural ball-and-socket. In addition, the JRI is a lead study center for the newer ceramic-on-metal hip replacement implant.
Hip Resurfacing
An alternative to total hip replacement is a newer technique called hip resurfacing. This procedure requires a smaller implant than the ones used in conventional hip replacement. An examination of the hip and review of X-rays help the orthopaedic surgeon determine whether or not a patient is a good candidate for hip resurfacing.
Knee Resurfacing
In modern knee replacement surgery, only the worn-out cartilage surfaces of the joint are replaced, making this a resurfacing or "re-treading" procedure. The implants that are used now allow for range of motion that closely matches normal movement.
Shoulder and Elbow Replacement
Like the hip, the shoulder is a ball-and-socket joint. Disruption of the cartilage in the shoulder bones allows arthritis to occur, which can cause debilitating pain and stiffness. Shoulder replacement can resolve this problem. In a similar manner, arthritis damage in the elbow can be addressed by an elbow replacement procedure.
Acute Rehabilitation Unit
St. Vincent Medical Center has an Acute Rehab. Unit that will help patients get back on their feet quickly following joint replacement. Physiatrists, physical therapists and registered nurses give each patient hours of therapy daily to help restore strength, balance and mobility.