Interventional cardiology uses varying procedures to treat the heart before surgical intervention may become necessary. We use state-of-the-heart techniques that range from Angioplasty to PFO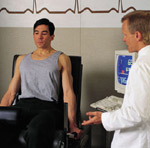 closures so that we can treat heart problems in the best possible way. Our preventative care may help to diagnose heart problems long before they become symptomatic. However, in the event that intervention or surgery is required, you can feel confident in the knowledge that our facilities, physicians and equipment are among the best in the area.
Interventional cardiology procedures are performed in our Cardiac Cath Lab Village, a specialty area dedicated to performing interventional procedures. One of the most comforting aspects of the Cath Lab is its convenience. When you enter the Lab, you will sign in, undergo and recover from your procedure all in the same area, making your stay as seamless as possible.
The Cardiac Cath Lab Village includes:
Five Cardiac Catheterization Laboratories
Cardiac Electrophysiology Laboratory
16-bed Cath Lab recovery room
This is in addition to the hospital cardiac facilities that include:
Six cardiovascular surgical suites
15-bed cardiovascular surgical intensive care unit (CSUI)
16-bed thoracic surgical and coronary care unit (CSUII)
Four isolation beds dedicated to heart transplantation
64-bed telemetry unit
The SVMC Cardiac Cath Lab measures its outcomes using the standards developed by the Society of Thoracic Surgeons, The American College of Cardiology (ACC/NCDR), and The National Registry for Acute Myocardial Infarction.The quality of our Heart and Vascular Center is demonstrated in outcome statistics that exceed the national benchmarks of the ACC/NCDR.
The following are some of the invasive cardiology procedures performed in the Cardiac Cath Lab Village:
Non-invasive cardiology procedures include:
For more information on interventional heart care, contact the Cardiac Cath Lab.
Related Links: