When a heart or cardiovascular problem occurs, St. Vincent Medical Center is equipped to provide the right care right away. As a pioneer hospital in heart surgery and with state-of-the-art cardiac catheterization laboratories, St. Vincent Medical Center diagnoses and treats all types of arterial blockage and heartbeat rhythm disorders. Our physicians, nurses and staff are very experienced and dedicated to the mission of the hospital—treating patients well.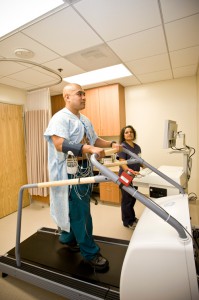 In 1957, St. Vincent Medical Center was the first hospital on the West Coast to perform successful open heart surgery. In the decades since that achievement, we've become a renowned center for cardiac care, providing comprehensive diagnosis and treatment services for everything from common problems to rare disorders.
Cardiac Catheterization Laboratories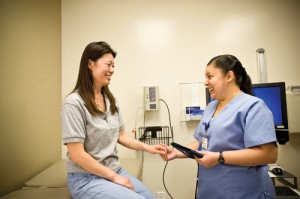 Symptoms like chest pain, shortness of breath or lower-than-normal energy may be due to a cardiovascular problem. Our cardiologists use the cardiac cath labs to diagnose abnormalities like blocked arteries, PFO and valve disorders.
St. Vincent Medical Center was the first hospital in Los Angeles to offer transesophageal echocardiography, a non-invasive way for cardiologists to view the beating heart.
Cardiologists diagnose problems by inserting a catheter through an artery in the leg into the coronary arteries. They can treat a clogged coronary artery in the Cath Lab by placing a stent, a tiny wire mesh tube that props open the artery to keep the blood flowing.
Cardiologists can now seal a PFO opening by performing a cardiac catheterization and placing a closure device (septal occluder) in the PFO.
Electrophysiology Services
A heart that continually beats fast or often skips a beat may require treatment. Specialized cardiologists at St. Vincent Medical Center can restore the heart's natural rhythm. Our physicians use the latest techniques to restore cardiac rhythm, including:
Electrophysiology Study
Angiography with or without Vascular Stenting
Radiofrequency Ablation—The use of radiowave energy to modify the heart's electrical circuits
Minimally Invasive Surgical Options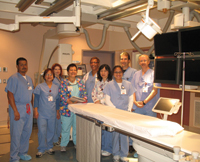 Some heart conditions require surgery. After a thorough evaluation in the Cath Lab, a cardiologist may refer a patient to a cardiac surgeon for an operation.
Skilled cardiac surgeons use our advanced surgical facilities, which are outfitted with a video endoscopic tower and video-assisted thoracic surgery equipment that allow them to perform certain procedures through smaller incisions. Minimally invasive surgery has been proven to result in less pain, faster healing and shorter hospital stays.
Off-Pump Coronary Artery Bypass (OPCAB)
One of the most significant recent advances in cardiac surgery is off-pump bypass, which enables the surgeon to operate on a patient's heart while it continues to beat. Surgeons at St. Vincent Medical Center have performed more than 1,500 off-pump, or "beating heart," surgeries.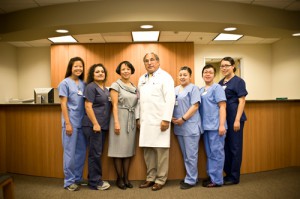 Transmyocardial Revascularization
Unlike other hospitals, St. Vincent Medical Center offers a minimally invasive approach to transmyocardial revascularization. During this procedure, the surgeon makes tiny holes in the heart with a laser to restore blood flow and oxygen to the heart and encourage the growth of small blood vessels.
For more information about heart services and for a physician referral, call (866) 478-8462.
• Leading edge interventional cardiology
• Beating heart bypass surgery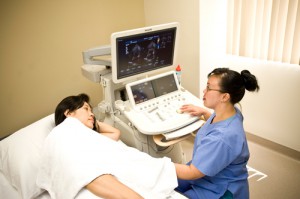 Throughout the years, we've worked to establish a reputation as a leader in heart care, and have remained dedicated to research, diagnosis, treatment and understanding in all matters relating to the heart. This is why our Heart Center has been recognized as a Cardiac Center of Excellence from a number of health plans.