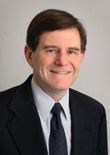 Dr. William M. Luxford was born in Glendale, California. He received his Bachelor of Science degree in Biology at Loyola University in Los Angeles. Dr. Luxford received his medical degree from the University of Southern California School of Medicine where he graduated with honors and was an Alpha Omega Alpha member.
He completed an otolaryngology residency at the Los Angeles County/University of Southern California Medical Center in 1980, and was certified by the American Board of Otolaryngology later that year. He completed a clinical fellowship in neurotology at the House Clinic/House Ear Institute in 1981, and became an associate of the House Clinic at the completion of his fellowship year.
Dr. Luxford's research activities include cochlear implants and hearing rehabilitation. He is a world-renowned expert on the subject of cochlear implants as well as Otolaryngology (head and neck surgery) and has written or coauthored more than 80 articles and papers for publications in academic journals including the American Journal of Otology, the American Journal of Otolaryngology and the American Journal of Neuroradiology.
Dr. Luxford serves as the Medical Director of the House Ear and Neurosurgery Center at St. Vincent Medical Center, and is also a Clinical Associate Professor of Otolaryngology at the University of Southern California School of Medicine and a member of the following national societies; American Academy of Otolaryngology – Head and Neck Surgery, American Medical Association, Los Angeles County Medical Association, Los Angeles Society of Otolaryngology, California Medical Association, American Neurotology Society, Pacific Coast Ophthalmological and Otological Society and North American Skull Base Society.