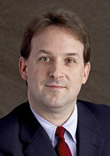 William H. Slattery III, M.D., works in private practice at the House Clinic in Los Angeles, California and he is also on staff at the House Ear and Neurosurgery Center at St. Vincent Medical Center. He is also Director of the Clinical Studies Department at the House Ear Institute (HEI) and serves as Associate Professor of otolaryngology at the University of Southern California.
Dr. Slattery received his medical degree from the University of Missouri–Columbia. Following an otolaryngology residency at the University of Florida he completed a fellowship in neurotology/skull base surgery at the House Clinic. Dr. Slattery is board certified by the American Board of Otolaryngology.
Dr. Slattery's research interests include treatment of acoustic neuromas, Neurofibromatosis Type–II, implantable hearing devices, and facial nerve disorders. He has received multiple research grants including his current multimillion–dollar grant to study acoustic neuromas and Neurofibromatosis. His Clinical Research Department at HEI is the largest research department in the world dedicated solely to clinical evaluation of hearing disorders.
Dr. Slattery is a fellow of the American Academy of Otolaryngology – Head and Neck Surgery. He is an author and co–author of numerous papers on the subjects of hearing disorders. He is the otology/skull base section editor for the Otolaryngology–Head and Neck Surgery Journal, which is the preeminent journal for otolaryngologists, and the histopathology section editor for the peer–reviewed Otology & Neurotology. He has been quoted in multiple lay publications including Business Week, Prevention Magazine, and the Los Angeles Times and has been featured on television programs including the Discovery Health Channel.