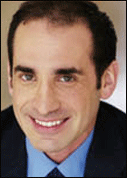 Dr. Marc S. Schwartz was born in Philadelphia, Pennsylvania. He received his Bachelor of Arts degree from Wesleyan University in Middletown, Connecticut, and his medical degree cum laude from Harvard Medical School. Dr. Schwartz completed his residency in neurological surgery at Brigham and Women's and Children's Hospitals in Boston.
Dr. Schwartz received additional training in skull base surgery at Oregon Health Sciences University, and is certified by the American Board of Neurological Surgery. He has served as Assistant Professor of Neurosurgery and Director of the Skull Base Surgery Program at Albany Medical College in Albany, New York. Dr. Schwartz joined the combined medical staffs of the House Clinic and St. Vincent Medical Center in August 2002, specializing in skull base surgery and cranial nerve surgery.
Dr. Schwartz has held several clinical and academic appointments, is a frequent presenter at professional conferences, and has co-authored numerous articles and papers for publication in academic journals including the Journal of Neurosurgery, Surgical Neurology, Skull Base Surgery, Neurosurgical Focus, and Cancer Research.