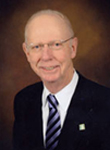 Dr. John W. House received his Bachelor of Science degree from the University of California (USC) and his Doctorate in Medicine from the USC School of Medicine. Following a Straight Medicine internship, he decided that Otolaryngology would provide the latitude to pursue his interest in scientific research while interacting with people in its clinical application. He completed his Ear, Nose and Throat (ENT) Residency at Los Angeles County/ USC Medical Center in 1974 after a two-year tour of duty in the U.S. Army where he served as the Chief of ENT Service at Beach Army Hospital, Fort Walters, Texas. Dr. House entered private practice at the House Clinic in 1975.
Dr. John House is president of the House Ear Institute, which was founded in 1946 by his father, Howard P. House, M.D. His devotion and expertise as a teacher confirm his belief in the Institute's philosophy to share knowledge through professional education.
A recipient of the 1990 USC "Alumni Merit Award," Dr. House was honored as "Outstanding Teacher" at USC from 1989-91, and was named "Teacher of the Year" by the Family Practice Department at USC in 1987. Currently, Dr. House holds the post of Clinical Associate Professor, Department of Otolaryngology at the Colleges of Medicine at USC and the University of California, Irvine.
Dr. House is widely published on a variety of research subjects, and serves on the editorial boards of the Journal of Microsurgery and The Laryngoscope. He is on the review board of the Otolaryngology-HNS Journal and serves on the medical staffs at The Hospital of the Good Samaritan, St. Vincent Medical Center, Children's Hospital of Los Angeles, LA County/USC, Huntington Memorial Hospital and USC University Hospital. Dr. House is included in LA Magazine's list of "Best Doctors In Los Angeles" as well as being named in Best Doctors of America.