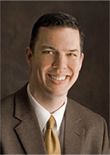 Dr. Eric P. Wilkinson is in private practice at the House Clinic in Los Angeles, California and he is also on staff at the House Ear and Neurosurgery Center at St. Vincent Medical Center.
Dr. Wilkinson received his undergraduate degree in electrical engineering, with honors, from Arizona State University. He attended Stanford University School of Medicine in Palo Alto, California. General surgery training was obtained at Maricopa Medical Center in Phoenix, Arizona. He then completed his residency in Otolaryngology-Head and Neck Surgery (ENT) at the University of Iowa, graduating as chief resident. Following residency training, Dr. Wilkinson was a fellow in neurotology and skull base surgery at the House Ear Clinic and House Ear Institute. He is board certified by the American Board of Otolaryngology.
Dr. Wilkinson's academic interests include acoustic neuroma management, optimization of cochlear implant speech processing strategies, computer-aided and endoscopic techniques in skull base surgery, and laser stapedectomy.
Dr. Wilkinson is a member of the American Academy of Otolaryngology-Head and Neck Surgery, the American Neurotology Society, and the North American Skull Base Society. He is Clinical Assistant Professor of Otolaryngology at USC Keck School of Medicine.
Dr. Wilkinson and his wife, Gayle, are the parents of four children. Dr. Wilkinson enjoys traveling to Quito, Ecuador twice yearly to perform and teach ear surgery with Global ENT Outreach.